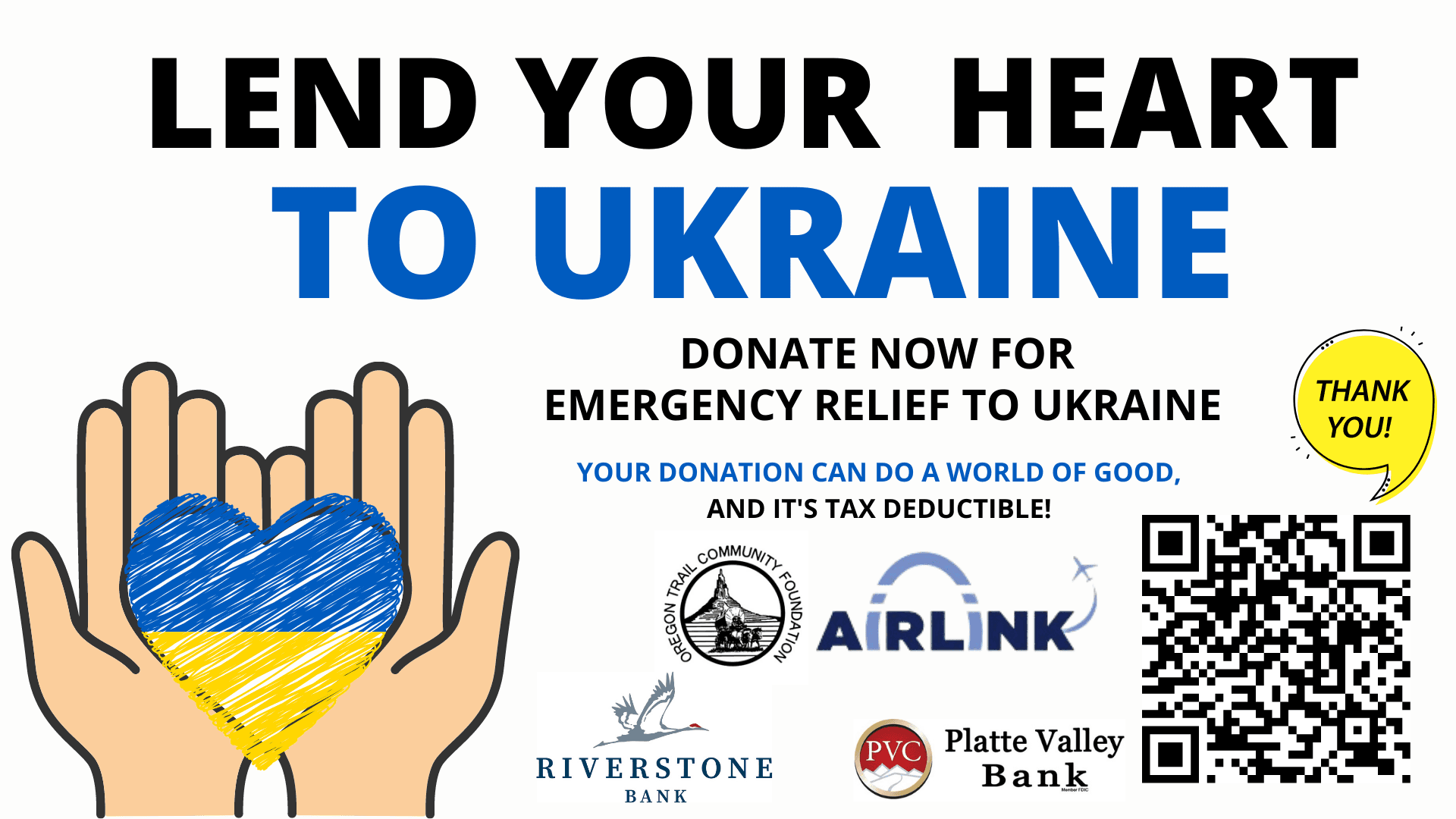 As the news of chaos and war in Ukraine swept over our media outlets, Hod Kosman, Director/Chairman of Platte Valley Bank and the Oregon Trail Community Foundation (OTCF) board felt the urgency to react and consider what could be done in our own community to offer help and hope to those in Ukraine.
The OTCF was there to help our local farmers who experienced the canal collapse just a few short years ago with an Irrigation Disaster Relief Fund at the Oregon Trail Community Foundation, raising over $300,000 in just a few short weeks. Then later in response to the pandemic, the OTCF developed the Covid Food Fund to help address those facing food insecurities in our community.  Over $33,000 was donated by the community to this fund, with $20,000 of that a grant from OTCF.
The OTCF strives to foster a collective community spirit and make a difference for those that are in need or facing devastating obstacles, such as those escaping Ukraine.
Our relief fund effort will be partnering with Airlink, a rapid-response humanitarian relief organization that connects airlines and pre-qualified nonprofits to help communities in crisis. Currently, Airlink is responding to the Ukraine Crisis with the help of their NGO and airline partners.
From the airlinkflight.org website:
Airlink has activated its Europe Regional Response Plan following the recent invasion and escalation of conflict in Ukraine.
In the first week of their response, they have supported transportation for assessment and emergency response teams from 11 nonprofit partners to Poland, Hungary, Romania and Moldova, with more on their way. 
Currently, Airlink is connecting with humanitarian, logistics, and airline partners in the region to send relief supplies while assessing main needs and response capabilities. This includes working to ensure our requests for humanitarian cargo delivery will not cause additional bottlenecks in neighboring countries or strain local resources, while making sure appropriate consignees are arranged on the ground.
Airlink is supporting the humanitarian community by identifying flight options in the region. Due to Ukraine's closed airspace, options will include destinations in neighboring countries. We will continue to monitor other destinations supported by our network.
The Ukraine Relief Fund has been set up as an online giving opportunity for anyone wishing to help make a difference. You can give anytime at otcf.org/donate-to-ukraine, or you can drop off a check to Platte Valley Bank locations in Scottsbluff, Gering, Morrill and Torrington, or Riverstone Bank location, or to Oregon Trail Community Foundation at 115 W Railway Street in Scottsbluff.