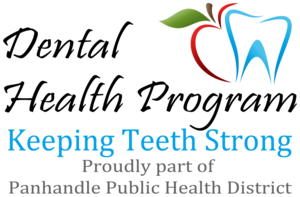 More About Us
We partner with school districts across the Panhandle as well as ESU 13. Oral health is essential to overall health across the lifespan and dental disease is one of the most preventable of all health problems. Proper oral hygiene, good eating habits, and regular professional dental care can greatly decrease the risk of developing cavities and gum disease.

Out of the 12 counties, eight are state-designated shortage areas for general dentistry. Other barriers such as significant travel to see a dental provider, finding a provider that will take new Medicaid patients, and the affordability of dental care proves it can be difficult for families to create dental homes for their children. Our Dental Health Program can help fill the gap by providing basic preventive dental services to students in the school.
Keeping Teeth Strong started out with a state grant. When that funding ended an anonymous donor came forward through the Nebraska Community Foundation and committed $171,000 as a challenge grant over five years to keep the program flourishing. We need to raise that same amount of money locally in order to receive the full amount. Since January 2019, we have raised $105,500.
Panhandle Public Health District
---