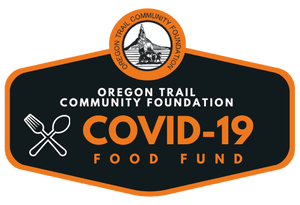 In 2020, shortly after the Covid pandemic emerged, The Oregon Trail Community Foundation (OTCF) set up a fund for those who wished to donate toward the Covid 19 crisis in our community.
This effort initially provided funding to local restaurants who were addressing food insecurity, especially for youth and older adults. These establishments prepared and served food since the disaster first began to unfold in our community. Donations were used to pay food distributors and/or grocery stores directly, so these efforts were able to continue doing what they were already doing, and not burdened with fundraising. 
This Fund brought n $33,550 in Donations, with $20,000 of that being a grant from the Oregon Trail Community Foundation.
With your donations, we were able to help the following organizations feed those facing food insecurities during this most trying time: 
Scottsbluff Main Street Market
SYSCO DENVER (16th Empire's food supplier for their sack lunch program)
Fresh Foods (Oregon Trail Roadhouse's food supplier for their sack lunch program)
Scotts Bluff County Volunteer Center / Meals on Wheels
Potter's Wheel Food Pantry
Main Street Market (Blessings Box Food Supplier)
Cirrus House
St Francis Episcopal Church / Sack lunch program
First United Methodist Church / Sack lunch program
Kiwanis Club of Scottsbluff / 
Scottsbluff/Gering Soup Kitchen
Thanksgiving in the Valley
Harvest Valley Church / Christmas in the Valley
11:13 Ministries
Pastor's Food Pantry
Disaster Response Photo Gallery