About Us
The Oregon Trail Community Foundation is dedicated to supporting projects that improve education, our schools, wildlife preservation, historical landmarks, the arts, healthcare and scientific research.
The Foundation offers grants, scholarships and other services to organizations and individuals through funds provided by donations, memberships, bequests, trusts and other financial vehicles.  The Oregon Trail Community Foundation helps you contribute to the betterment of your community.
Since its establishment in 1977
Cricket Simmons, Board member of OTCF, recounts the vision and success of OTCF and the projects we have proudly been a part of for nearly 45 years.
With our visionary founders, the Foundation has donated almost 1.5 million dollars.
---
Trails Home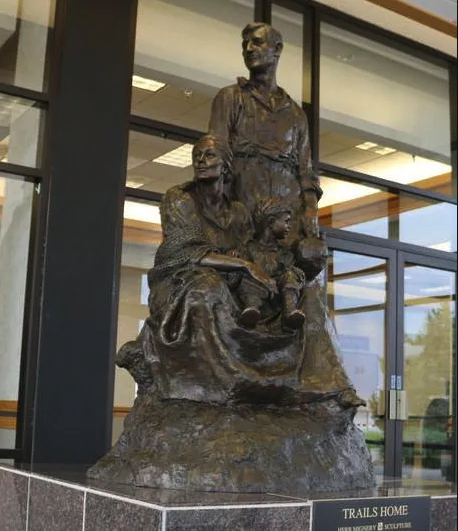 This statue was placed at the Gering Civic Center in July 1994, and pays tribute to the historic Oregon Trail. The 9-feet tall sculpture depicts a family of settlers who are on the Oregon Trail. The parents are looking toward the Oregon Trail and a little boy is looking East toward home. It stands as a reminder of the pioneer life that is celebrated with the Oregon Trail Days.
​"Trails Home" was created by artist Herb Mignery of Estes Park, Colorado. Mignery is a Nebraska native.
​Over $100,000 was raised for the project, which was due in part to the support of New Horizon's members, the City of Gering, business donors who donated over $5,000, and proceeds from the sale of 30 smaller replicas of the statue, which were priced at $2,500 each. Oregon Trail Community Foundation also helped to make donations tax-deductible.
"Trails Home" is proudly owned by the Oregon Trail Community Foundation.