Autumn H Elsen Memorial Scholarship
---
For graduating seniors pursuing a degree in EDUCATION or the FINE ARTS. This scholarship will award two 4-year scholarship for $4,000 total each.
​Two (2) $4,000 scholarships will be awarded, payable for up to 4 years, with $500 awarded per semester.  
Preference is given for one of these scholarships to be given to a GERING HIGH SCHOOL GRADUATE
​Eligibility, Application and Selection Process:
​Available to graduating seniors 
Full-time Enrollment will be required.
Scholarship recipient must maintain a 3.0 grade point average.
High school applicants are required to attach a copy of their official ACT/SAT scores and their current high school transcript to the online application.
Deadline for application and supporting documents is April 1st. Recipients will be announced in May.
Recipients:
2024 - NEW SCHOLARSHIP OFFERING
---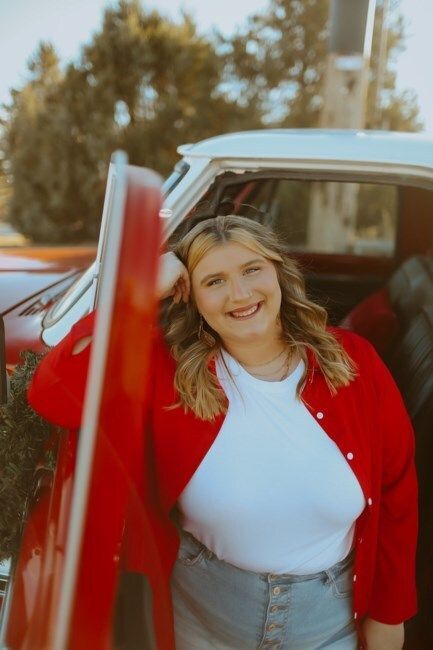 Autumn Hope Elsen
July 1, 2003 - March 19, 2023

Autumn Hope Elsen, 19 of Gering, Nebraska died March 19, 2023 as the result of an automobile accident near Chadron. A Celebration of Life for Autumn was held on Saturday, March 25, 2023 at 10:00 am at Calvary Memorial Church with Pastors Gary Hashley and Joe Patterson officiating. Inurnment followed at West Lawn Cemetery in Gering. 
Autumn entered the world on July 1, 2003 to Levi B. and Tonya A. (Giles) Elsen at Regional West Medical Center in Scottsbluff, Nebraska. Autumn began her early education attending Helping Hands School in Scottsbluff with teachers Mr. and Mrs. Paul and Beverly Reuland from preschool through kindergarten. While attending Helping Hands, Mrs. Rueland molded and shaped the path for Autumn's love of learning to begin. After graduating kindergarten, Autumn was enrolled into the Gering Public School system and attended Lincoln Elementary where she blossomed as a student with the help of so many amazing teachers: Mrs. Cindy Mitchell, Mrs. Leigh Anne Tofflemire, Mrs. Angie Brester, Ms. Tracy Steele and Mrs. Jennifer Schwartz to name a few. At Lincoln Elementary, Autumn was a member of both Student Council and Show Choir.
Her passion for learning continued in Junior and Senior High Schools but so did the adventure for trying new things. In Junior High: clowns, band, volleyball, basketball and track consumed her free time, and she loved being part of a team … we all watched as she attempted and made a 3pt shot in the rival Scottsbluff - Gering 8th grade basketball game, even if Coach Moser told her not to, to help the team get the W. The memories and friendships she made were and are immeasurable. High School brought even more "news", Autumn was a four year member of the softball team and one of the loudest and proudest cheerleaders out there. She auditioned for and was a three year member of Harmony. She was a three year member Color Guard, ultimately earning the position of Captain. She participated in the musical productions of "Mama Mia" in 2019, "The Wizard of Oz" in 2021 (the best tree and jitterbug there ever was), and "Bye Bye Birdie" in 2022 (Mrs. Mae Peterson never looked or sounded so good). But by far Autumn's greatest "new" was when Mr. Tyler Thompson convinced her to give the speech team a try and we are sure glad she did. Coaches Mr. Thompson, Ms. Jenn Dillinger and Mr. Kristian Schank, as well as all her amazing teammates, Kennie, Mark, Maddie, Hannah, Abby, Evan and Thomas, helped shape the orator we saw perform at every single speech event; earning a 4th place finish in OID at the 2022 Nebraska State Tournament. Autumn was an honor student, making honor roll every single quarter from seventh grade to her senior year and was a member of both the National Junior Honor Society and the National Honor Society, graduating Magna Cum Laude in May 2022.
Continuing her quest for learning, Autumn entered Chadron State College in August 2022 as an Elementary Education major, making the Dean' List in January 2023, with the hopes and dreams of becoming a 4th grade teacher. All we ask for now sweet girl is to fly high with the eagles and soar to your greatness!!
Left to remember her spirit on earth, her Mother, Tonya, siblings Aspen Joy and Dawson Wayne of the home, Michala Crable, Gering, niece and nephew Arrabella and Declan, maternal Grandmother Ramona Giles, Gering, paternal Grandparents Ed and Cynthia McKnight, Gering, Alan and Valerie Elsen, Harrisburg, Curtis and Sandy Roth, Gordon, paternal Great Grandmothers Lorna Elsen, Sidney, Sally Leach, Estes Park and many aunts, uncles, cousins and friends.
Proceeding Autumn in death were her Father Levi B. Elsen, maternal Grandfather Wayne M. Giles, maternal Great Grandparents Woodie and Emma Giles, Ed and Bessie Hiser, paternal Great Grandparents Lynn and Darlene Martin, Robert Elsen and Delbert Leach.
Autumn's spirit will continue to shine on as she made the selfless decision to be an organ donor and retrieval has taken place.